DeepRock Hydra-Drill for Do-It-Yourself Applications

The industry standard for portable drill rigs
The HD2001 is built on the same frame as the HD2000 and uses the same gearbox and swivel. However, it employs a larger engine with additional power and is designed for larger drill bits and premium drill stem for use in drilling 3" and 4" finished wells and in working through more difficult soils.

Both rigs feature the same high quality materials and the same perfect balance of power and features designed to get the job done reliably and efficiently.

Recommended Drilling Packages for Model HD2001

Depth
Casing Size

Price

50'
2" Casing
Call for Quote
100'
2" Casing
Call for Quote
150'
2" Casing
Call for Quote
200'
2" Casing
Call for Quote
50'
4" Casing
Call for Quote
100'
4" Casing
Call for Quote
150'
4" Casing
Call for Quote
200'
4" Casing
Call for Quote
200'
No Casing
Call for Quote
As with the HD2000, the HD2001 is easy to clean and maintain. Once you have finished drilling your well, the HD2001 can be conveniently stored away in your garage or barn for its next use. Other than the normal after-use clean-up and the type of seasonal maintenance you provide for your lawnmower, there is nothing complicated or mysterious about the HD2001.

It is a reliable, well-engineered piece of equipment designed without any hard-to-find or difficult to service parts. Because it is completely mechanical in construction, there are no complex or expensive hydraulics for the Do-It-Yourself Driller to worry about.

Safety is built into every machine. The Hydra-Drill is gravity fed and not excessively top heavy as with some designs. There are no complex, external weights or potentially dangerous pull-down systems.
The power and torque curve of the HD2001 engine have been selected to allow the operator to have a good sense of feedback during the drilling process. In this sense, it is like a finely balanced sports car.

Engines that are too large or that are coupled through hydraulics can provide too much torque - adding to the risk of potential equipment damage or compromising the drilling process. Engines that are too small do not have the power to get the job done. The torque curve of each Hydra-Drill engine has been carefully selected to match the power requirements of the drilling jobs the rigs are designed for.
DeepRock's years of experience with portable drilling equipment and quality engineering have produced an elegant, perfectly balanced line of models that can get the job done, safely, quickly and reliably - time after time.
First time drillers often have questions about how to determine which drilling rig is right for them, how to drill through different soil types or which pump is the best to use. DeepRock has been answering questions like these for people all over the world and and helping them with their well drilling needs since 1962.

We are always glad to hear from you. Give us a call at 1-855-457-4469.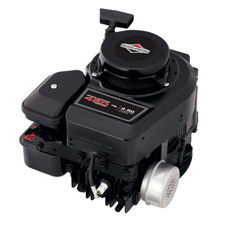 The HD2001 uses a powerful Briggs and Stratton 6.0 HP engine.
.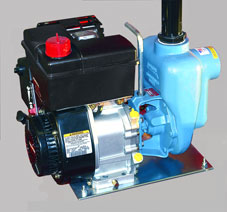 Mud Pump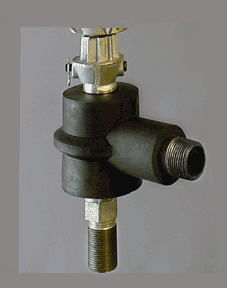 Standard Swivel