DeepRock

Automatic Rod Handling System



Featuring the "OTTO" Automatic Drill Rod Loader



OTTO is available on all of DeepRock's 10 foot rigs



OTTO moves over to pick up a drill rod



The OTTO automatic drill rod loader is controlled by one easy to operate control



A DR150 Rig with OTTO and a full load of drill rods ready for work



OTTO places a drill rod in drilling position





In Partnership with Crest Capital: Equipment Financing and Leasing Company






DeepRock Manufacturing is a proud member
of the National Ground Water Association

DeepRock OTTO


The innovative DeepRock Automatic Rod Handling System has been developed over a period of years as a result of requests from the drilling community for a safe, efficient, mechanical system for handling drill rods.
There are two essential components to this rod handing system which has been in service for over 20 years: The DeepRock Automatic Breakout System and the OTTO automatic Drill Rod Loader.

DeepRock Automatic Breakout System

The drill rods have two important features:
They have upset tool joints, which is to say the threaded connectors on each end are larger in diameter than the long section of pipe in the middle. The other feature is a pair of ribs, or fins, or lugs welded at the female end of the drill rod.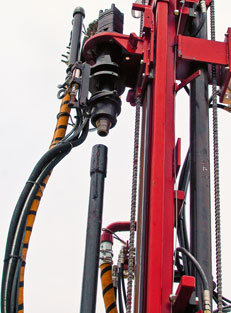 Welded lugs at female end of upset rod

When the rod is placed in our special bowl and slip assembly it cannot fall through because the upset tool joint is larger than the opening in the bowl. It cannot rotate very far because the welded lugs strike against blocks inside the bowl and slip.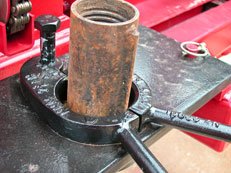 Drill Rod in Bowl and Slip Assembly
The rods are free to move up and down, however, no wrench or clamp is needed to thread a drill rod into and out of the bowl and slip.

The "OTTO" Automatic Drill Rod Loader

The OTTO Automatic Drill Road Loader utilizes a mechanical arm to swing down and pick up a drill rod, stand it up, and move it into position under the drill head.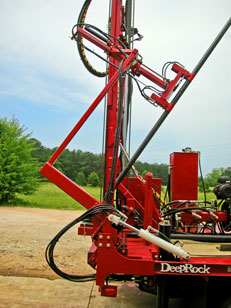 OTTO positioning a drill rod

All this is done with one, easy to use, reliable control. A smart hydraulic system takes the arm through the various movements.
There are no critical positioning controls or manual adjustments to get precise alignment. OTTO does everything.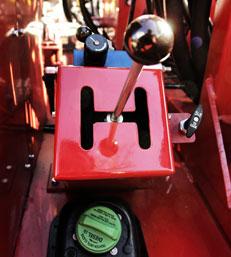 OTTO Control Stick
The drilling operator can continue drilling while the OTTO system fetches and prepares to position the next drill rod.

The OTTO system has three stacks of drill rods for a total of 300 feet of drilling rod.

After using all the rods in one stack the drilling rig operator merely flips a stop plate up which tells OTTO to take rods from the next stack.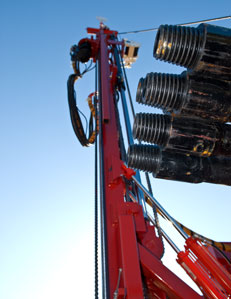 Drill rods ready for loading in the stacks
For the first time, it is truly possible for one man to effectively operate a drill rig that does not cost a fortune.

As with all of our products, complete engineering and technical support is provided by DeepRock .



DeepRock Financing

In response to our customers' requests for innovative financing solutions, DeepRock has recently partnered with Crest Capital to provide flexible, financing solutions tailored to our customers' specific needs.